9 Best Types of Videos for Small Businesses - Video Marketing
Do you know the different types of videos for small businesses? One of the best things about video marketing is its variety, but this can also be the most challenging thing. There are many different types of video marketing strategies out there, and finding the one that matches your niche is critical to its success. Depending on what your brand is offering its audience, you'll want to match your video marketing to the same theme.
Best Types of Videos for Small Businesses
Below we will give you some examples of the best and most common types of video marketing. Some may or may not pertain to your market, but knowing all the options is essential to choosing what will work best for your business.
Brand Awareness Videos
These videos are used with a much larger advertising campaign and often focus a section of the video marketing on building brand awareness. This is typically done by larger companies that have bigger budgets. If you're a small business or a startup, don't waste your advertising budget solely on creating brand awareness marketing videos. There are plenty of opportunities to combine both awareness and generate sales with other types of video marketing.
Live Streaming Videos
If this one scares you just by reading the title, then prepare to find out why so many influencers are hugely successful on social media. People LOVE live videos! They are raw, unedited videos that people can trust are giving them the real deal. If you want to up your engagement and really dazzle your audience, then nothing gets it done faster than hosting a live video about your brand, product, or services.
How-To Videos
If you don't want to go live, then the next best thing is doing some 'how to' videos for your audience. Imagine your product line consists of the best air fryers; what better way to engage with your audience than to showcase some 'how to' videos for cooking some of America's favorite recipes in a matter of minutes. We're thinking wings, sound good? But even if you're not in the air fryer business, you probably can still come up with some innovative ideas for videos that teach your target audience something they are really interested in learning.
Interviewing Videos
If you want to get your audience super-engaged, partner with an influencer or mid-size celebrity to talk about your brand or products. This not only builds hype around your marketing video it also adds value to your audience. When they see somebody they know to speak on your behalf, they begin to trust your brand over other companies. Just make sure that the person you chose has an interest in your niche because this helps you become an authority!
Testimonial Videos
Nothing speaks volumes more than customers raving about your products or services. When you get previous customers to engage in testimonial marketing videos, you're opening yourself to a whole new world of 'trusting the brand.' People love to see that your product works as described and can help them the same way it helped these people in your videos. When they said 'seeing is believing,' they weren't kidding. 
Informational Videos
These types are generally used for a business offering a service or some kind of tech product that needs a description for people to understand it. They often show the process and the benefits that people can expect when buying this product. How-To marketing videos are great if you want to show your targeted audience how to use your product, but if what you're trying to sell is self-explanatory, skip these types of marketing videos. 
Spotlight Videos
If your company is known for hosting or attending significant events, then you have the perfect opportunity to turn that event into a marketing strategy. You can highlight parts of the event that pertain to your niche and allow your audience to get an inside look at behind the scenes. Since most events are geared towards businesses, the average person has no idea what's going on within your niche. Give them a sneak peek, and then continue with your marketing plan.
Vanishing Videos
Something relatively new to the market is the vanishing or disappearing videos you hear about on Snapchat. However, marketers have figured out how to build urgency by using these vanishing videos on other social media platforms. For example, Facebook now has Stories that are only available to watch for a limited time. If you want to create a buzz, start a campaign that offers something for free with a vanishing video. It's a great way to test the waters and see how your audience responds to this type of video marketing.
Social Media Videos
Social media video is available in many formats and styles. These videos can be shared on social media platforms like Facebook, Twitter, and Instagram. Every platform has its own requirements and norms. Be aware of these when you plan your video. If your video includes someone speaking, captions are a feature that all social media videos must-have. Captions are essential as many people will not be able to hear the content.
Choosing The Right Type Of Video Marketing
Video content is becoming increasingly important for small businesses today, especially with the rise of social media. But the problem is: what videos should you make? Here are 16 video ideas that will help you get started.
Here are the 16 types from the video:
Brand video: company mission, why, etc
Meet our team
Product demo or explainer
Service demo or explainer
Sales demo presentation
Commercials - short, funny, inspiring
FAQ, Snackable content
Weekly tip videos (educate)
Webinar or podcast
Customer stories
User generated content
Project videos, demo reels, before and after
Training and help videos
Company culture, recruiting video
Employee spotlight video
Company annual party video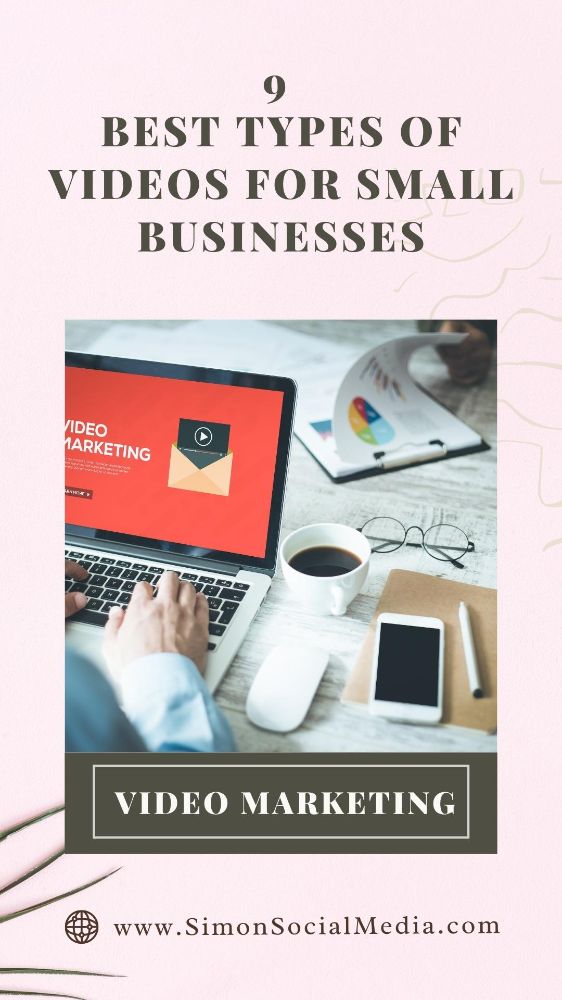 Author Bio: Simon Matthews
Simon Social Media is a blog that provides social media marketing tips for small business owners and entrepreneurs. It's written by Simon, who has been blogging since 2012 and loves to write about the latest developments in the world of social media and influencers.
Simon helps small companies maximize their social media presence by providing insight and advice on how to develop an effective online marketing strategy that includes social media tips, organic content development, influencer marketing, and more.
---
2022 © Simon Social Media